Raymond Burley is one of Britain's most experienced classical guitarists having performed solo concerts, concertos, on film scores, radio, and television and in virtually every possible guitar ensemble combination.
THE SANTOS MARTINEZ 'RAYMOND BURLEY' AWARD WINNING SIGNATURE GUITAR IS NOW AVAILABLE


The Santos Martinez 'Raymond Burley' signature guitar is now available and can be ordered through most high street music shops.

My long standing friends at Ivor Mairants Musicentre, in central London, always carry my signature guitar, which you can see at www.ivormairants.co.uk

Trade enquiries should be directed by Email to sales@jhs.co.uk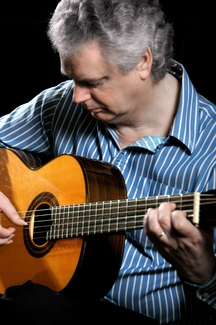 Raymond Burley says:
The guitar is based on an instrument made for me in 1985 by the English maker
Martin Fleeson
; unfortunately Martin died the following year. After acquiring the instrument I played it continuously for more than 20 years. I would rate it as probably the most versatile guitar I've ever owned. I used it on 16 CDs. Over the years it has been re-fretted twice by
Christopher Dean
and re-polished once by
Roger Williams
. Unfortunately it suffered small splits in the front and back during concert tours in severe US and Canadian winters. The guitar was retired a few years ago. It's an instrument I would never sell - it served me well and is of great sentimental value.
The Santos Martinez
version of the guitar is fantastic, the attention to detail is remarkable and the quality of the chosen woods is superb. The neck shape is itentical to the original guitar and is therefore beautifully comfortable to play. The volume level and sustain are both excellent and, of course, these will only improve further with continued playing. The purchase price of £649.00, which includes a plush hard case, is an absolute bargain.




Update 22nd Nov



I'm very pleased to announce that the Santos Martinez 'Raymond Burley Signature Guitar' recently won the accolade 'Best Classical Guitar of the Year'. The awards were hosted by MIA (Music Industries Association) in partnership with NAMM (the National Association of Music Merchandise) and sponsored by the British classical music radio station Classic FM.

A celebration dinner was held at the Emirates Stadium in London on Thursday November 22nd; unfortunately I was unable to be there as I had a concert with 4 Parts Guitar in Aldershot that night.

I'm very grateful to Dennis Drumm and staff at JHS for their hard work and dedication in bringing such a fine instrument onto the market and also to my good pal and playing colleague Gordon Giltrap for initially bringing the idea of cloning the Martin Fleeson guitar (the instrument on which the signature guitar is based) to the attention of JHS. The 'Raymond Burley Signature Guitar' deserves success and it's good to have my faith in the instrument confirmed and recognised by the music industry as a whole.

Above is a picture of Gordon Giltrap who is endorsing my JHS signature guitar.
I will eventually be posting some clips of me playing the guitar on YouTube.
I congratulate
Dennis Drumm, Paul Smith
and the rest of the team at
JHS
for their expertise and enthusiasm.
Click the PDF icon at the bottom of this page for more information.
Below is a batch of photographs of the guitar and case: