[short url]
Quartet
4 Parts Guitar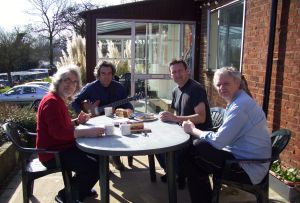 Update 4th Dec 09
It has just been confirmed that
Three Parts Guitar
is shortly to become
4 Parts Guitar
with the addition of the superb steel string guitarist
Clive Carroll
. The next tour will take place during the months of September and October 2010. A CD will be recorded in the spring. Tour dates and venues will be announced in due course.
A batch of 11 clips from the last
Three Parts Guitar
tour can now be found on
Youtube
. The concert took place in the beautiful Buxton Opera House in Buxton, Derbyshire on 30th September 2009. Below is a video of the Trio playing
Gordon Giltrap's 'Maddie Goes west'
To view the rest of the clips please visit
Ray Burley's YouTube Channel
Gordon Giltrap has graced the music business for more than 40 years with dedication to his craft and affection for his audiences. In the late 1970s he enjoyed a brief spell as a pop star with the hit single Heartsong. Over the years Gordon has worked with a broad range of artists such as Brian May, Midge Ure, Rick Wakeman, Martin Taylor and Cliff Richard. He has released 25 studio albums plus numerous live albums and compilations.
John Etheridge enjoys a glowing reputation in jazz and has been described by Pat Metheny as 'One of the best guitarists in the world'. He is equally at home on acoustic and electric guitar and is willing to engage, and excel, in many different musical styles. He has played with Stephane Grappelli, John Williams, Yehudi Menuhin, Barney Kessel, Dizzie Gillespie, Nigel Kennedy, Pat Metheny and the legendary jazz-fusion band Soft Machine.
Clive Carroll was described by Acoustic Guitar magazine as 'Probably the Best and Most Original Young Acoustic Guitar Player and Composer in Britain'. Born into a family of musicians in 1975, Clive has been immersed in a diverse range of music ever since. Between tours Clive has been involved in many other side projects: he is a visiting artist and tutor at the Irish World Music Centre in Limerick, he has been asked to play at events in the UK by celebrities ranging from film director Guy Ritchie to top-chef Jean-Christophe Novelli.