[short url]
Trio
Rodrigo Guitar Trio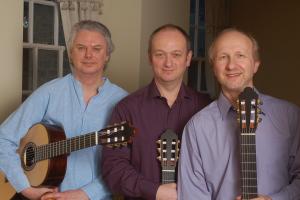 Formerly the
New Pro Arte Guitar Trio,
the
Rodrigo Guitar Trio
is recognised as one of the leading guitar ensembles in the UK.
The Rodrigo Guitar Trio members are
Raymond Burley
,
Cornelius Bruinsma
, and
Arne Brattland
Two highly acclaimed CDs for ASV (released under the name of the New Pro Arte Guitar Trio) -
America
and
Danzas Fantasticas
- feature unique arrangements of music by composers such as Albeniz, Granados, Turina, Gershwin and Bernstein. Shortly after it was released Danzas Fantasticas was Henry Kelly's 'CD of the Week' on Classic FM.
Cornelius Bruinsma studied at Colchester Institute where he took an honours degree in music; he went on to postgraduate studies at the Guildhall School of Music and Drama with Gerald Lee where he gained his Advanced Soloist Certificate and Licenciate diploma. Comelius is a founder member of the Pro Arte Guitar Trio and in this capacity he has recorded four CDs for ASV. He has toured extensively throughout the UK and Europe.
Arne Brattland is a Norwegian classical guitarist who studied at the Norwegian State Academy of Music in Oslo. His Norwegian debut was in 1983. Further studies in London led to an internationl debut at the Wigmore Hall in 1988. Arne has toured extensively in Scandinavia and Britain, and has also visited Poland, USA, Canada and Portugal to give concerts. He has issued three solo recordings and three trio CD's as well as his own publications of Grieg's Lyric Pieces for solo guitar, and has been a frequent guest at Norwgian radio and TV. He is a member of the Norwegian based Arctic Guitar Trio, and also performs in the Adamson-Brattland Duo with his wife.
The
Rodrigo Guitar Trio
has toured extensively throughout the UK, Europe and the USA.
The Trio's next US tour is in April 2009 with concerts in Virginia, Pennsylvania, Georgia and Indiana. For this tour
John Feeley
will be replacing Cornelius Bruinsma.
John Feeley is a classical guitarist and teacher from Ballinasloe, County Galway, Ireland. He is internationally renowned as a performer and teacher and he is regularly found performing and teaching around the world. John has won numerous awards,and is a particular champion of Contemporary Irish Music with many appearances and recordings to his credit. He has appeared as a soloist with The American Symphony Orchestra at Carnegie Hall, the National Symphony Orchestra of Ireland, the Ulster Orchestra, the Irish Chamber Orchestra and the Contempo Quartet. John is also Professor of Guitar at the DIT College of Music Dublin.