Biography
Biography of Raymond Burley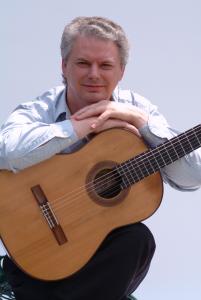 Raymond Burley
is one of Britain's most experienced guitarists having performed solo concerts, concertos, on film scores, radio, and television and in virtually every possible guitar ensemble combination.
As a soloist he has toured extensively throughout the UK, Europe, the USA, South America, Canada and the Far East, and has appeared many times at London's Wigmore Hall, the South Bank Centre's Purcell Room, and Birmingham's Symphony Hall. Raymond has been featured on BBC Radio, and worked with many of England's foremost orchestras including the BBC Symphony, the Philharmonia, the English Chamber Orchestra and the Royal Philharmonic.
Raymond has premièred many new works by composers that include
Stephen Dodgson, Bernard Stevens, Reginald Smith Brindle, John Duarte, Raymond Head, Edmundo Vasquez, Richard Stoker, James Patten, Gilbert Biberian, Dudley Moore, Bryan Kelly, Elis Pehkonen, Christopher Wright, Timothy Bowers, Tom Eastwood, Colette Mourey, Mark Houghton, Kai Nieminen and Anna Segal, Jerome de Bromhead and John Scott
.
For several years he performed and broadcast with harpsichordist
Stephen Bell
; many established composers were enthusiastic about the combination and wrote works for the duo, helping to create a more substantial repertory. He later performed with harpsichordists
Richard Leigh Harris
and
Gilbert Rowland.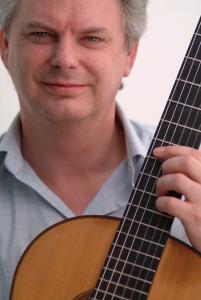 Between 1988-95 Raymond worked in a duo with American guitarist
Alice Artzt
and – based in New York City – he was also a member of the
Alice Artzt Trio
. He has also performed and recorded with mezzo-soprano
Jacqueline Fox
, worked in guitar duos with
John Mills, Gilbert Biberian, Gregg Nestor, John Feeley
and the jazz guitarist
John Etheridge
, flautists
Chris Britton
and
Jennifer Stinton
, steel string guitarist
Clive Carroll
and keyboard player
Rick Wakeman
; he was a member of the
Rodrigo Guitar Trio
. Shortly after its release, the trio's second CD, Danzas Fantasticas, was Henry Kelly's 'CD of the week' on Classic FM. This CD was released under the trio's former name,
The New Pro Arte Guitar Trio
.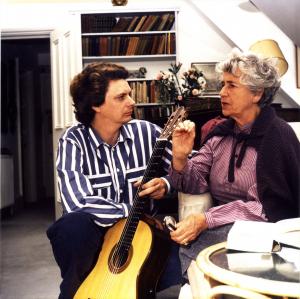 Raymond has performed with violinist
Michael Bochmann
, the
Bochmann String Quartet
, flautist
Jennifer Stinton
, percussionist
Keith Fairbairn
and given mixed programmes of poetry and music with the late
Dame Peggy Ashcroft.
The most recent duo partnerships include
Gordon Giltrap
in the duo
Double Vision
, percussionist
Keith Fairbairn
and with virtuoso Portuguese violinist
Emanuel Salvador
He is also in great demand as a teacher and has given master-classes and directed guitar workshops, festivals and summer schools throughout the UK and in Dublin, Vancouver, Ottawa, Toronto, Calgary, Seattle, San Francisco, Salt Lake City, Washington DC, New York, Princeton, Bremen, Bonn, Rotterdam and Lima.
Raymond has many guitar arrangements to his credit; the publishers include Schott, MSM, Southern Guitar Productions, RGT Publications, Lathkill and Corda (UK), Arpeggione (Switzerland), Durand (France), AIG (USA), Daminus (Germany) PWM (Poland) d'Oz (Canada) and Bergmann (Denmark). He has also edited a large number of music albums for Schott.
Go to the
Published Music
pages for information about Raymond's many publications.
Raymond supports several charities including
Amnesty International
and
Alzheimers UK
.
Many people have asked why Raymond Burley isn't featured more on
Youtube
- this will shortly be remedied with guitar duets by Carulli, Poulenc, Telemann, Brouwer, Ginastera, Mertz, Machado and Granados, played by
Raymond and John Mills
. There will be many other items (duets and solos) following shortly.