Wednesday, February 23, 2011
8.00pm
Worcester
4 Parts Guitar
Crowngate, Worcester WR1 3LD
phone: 01905 611 427
website: www.worcesterlive.co.uk/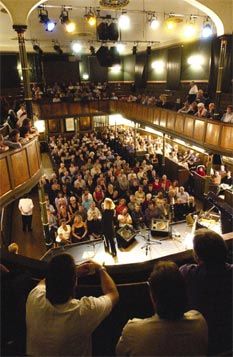 4 Parts Guitar are Raymond Burley, John Etheridge, Gordon Giltrap and Clive Carroll.

For those who would like to know more have a look at their various websites.
www.clivecarroll.co.uk
www.giltrap.co.uk
www.johnetheridge.com

The Countess of Huntingdon's Hall was built as a chapel in 1773 by the very formidable Selina, Countess of Huntingdon. She was the Founder of the Calvinistic/Methodist group known as the Countess of Huntingdon' Connexion. The Chapel prospered until the second half of this century when congregations declined. The last service was held here in 1976.

By this time the building was in a deplorable state of repair, and there was a move to demolish it. However, a determined group of Worcester people fought to prevent this happening and, after ten years during which nearly £1 million was raised, the unique features of the chapel were repaired and restored to what you see today.

Many of the original pews have been retained with the addition of cushion, a number of which have needlework covers made by Worcestershire W.I. members. The pulpit was the centrepoint of the Chapel, and it's occupant was visible from all seats in the building. Nowadays the focus is on the stage, several feet lower, which is why there are seats in the gallery known to us as "listening seats". Graceful curved staircases lead up to the pulpit, which is flanked by two splendid eagle lecterns. The original communion rail is still in place beneath the stage. The organ is a very fine one, built by John Nicholson of Worcester in 1840.

Our beautiful Hall, the only one of its kind in the country, is a Grade II listed building. The poet John Betjeman visited it, and described it as being "unique and irreplaceable...a Georgian gem

Please check availability of tickets and confirm date / start times with the organiser before setting out, as sometimes changes are unavoidable - thank you.


export this event to my calendar
Tweet