Saturday, November 16, 2013
7.30pm
Cardiff Bay
Raymond Burley POSTPONED
Harbour Drive, Cardiff Bay CF10 4PA
phone: 029 2087 7959
website: www.norwegianchurchcardiff.com/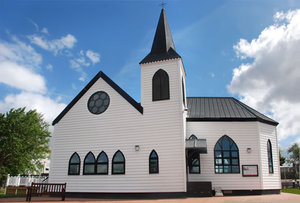 Date postponed due to unforseen circumstances

The Norwegian Church Arts Centre is a charitable organisation, which provides exhibition space and a beautiful setting for concerts. It also provides lecture facilities and a special ambiance for conferences. The church itself was closed in 1974. A decade later, in 1987, it was dismantled and stored to be rebuilt at a later time in its present location. It became an Arts Centre and was not reconsecrated. However, the present day uses of the building recreate the tranquil, relaxed and welcoming chararcter of the former church. The atmosphere of the building reflects the past use of the church as a cultural centre and meeting place.



Please check availability of tickets and confirm date / start times with the organiser before setting out, as sometimes changes are unavoidable - thank you.

export this event to my calendar
Tweet