Saturday, September 22, 2012
7.30pm 0
Banbury
Raymond Burley and Military Wives
Horse Fair, Banbury OX16 0AA
click here to purchase tickets
website: www.livearts-at-stmarys.co.uk/index.php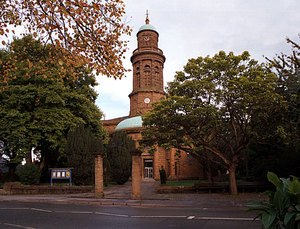 LiveArts was established in 2002 following a major appeal to reorder St Mary's Church, Banbury. When the church was reordered, a large performance area was built with under floor heating and dance floor. Although St Mary's is still an active place of worship, it is also a wonderful Grade I listed building and performance space with seating for up to 600 people.

LiveArts is a voluntary arts organisation that promotes and organises an annual programme of both professional and community-led concerts in St. Mary's. We hold over 25 events per year and have staged major concerts with performers such as Ralph McTell, Cleo Laine & Johnny Dankworth, Hayley Westenra, The London Community Gospel Choir, Show of Hands, Grimethorpe Colliery Band, Welsh National Opera, Dame Felicity Lotte and Sir Thomas Allen to name but a few. The venue has excellent facilities and we try to accommodate the needs of most organisations wishing to hire the church. LiveArts is also fully licensed and is happy to provide bar refreshments during concerts.

LiveArts has a team of up to 30 volunteers who work hard to make sure that visitors to concerts at St Mary's receive a warm and friendly reception. We want everyone to enjoy their experience so that they come back to revisit us!

LiveArts aims are to provide high quality performing arts events for the wider community and to raise funds from the concerts to help support the maintenance of the Grade I listed building.

The 'Warminster Military Wives Choir' (some of whom feature on the new Gary Barlow Commonwealth track 'Sing' and performed live at the Monday evening Jubilee Concert outside Buckingham Palace) are delighted to accept to perform on 22nd September in Banbury.

All monies raised will be donated to the charity "Help for Heroes"

export this event to my calendar
Tweet