Thursday, June 18, 2015
7.30pm
St Asaph
Raymond Burley
The Waen, St Asaph LL17 0DY Wales
phone: 01745 582190
website: www.the-farmers-arms.co.uk/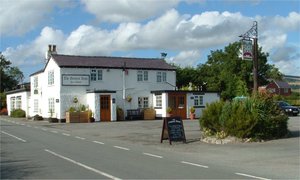 THIS renowned hostelry, which exudes all the character and charm of an Eighteenth Century Country Inn, is set in an enchanting part of the Denbighshire countryside known as The Waen, near St Asaph.

The Waen, with its lush green fields, wooded areas and thick hedgerows, is adjacent to The Clwydian Range Area of Outstanding Natural Beauty (AONB). The five Welsh AONB along with The National parks, make up the most important landscapes in Wales.

The rustic interior of The Farmers Arms, part of which dates back to the mid 1770s is widely regarded as a prime example of an unspoilt, traditional Welsh Inn. A warm welcome is offered and fine food, excellent wines and traditional, specially brewed 'in house' hand pulled Ales (such as Farmers Ale, and Cwrw y Waen) are served all year round. The wine list is distinctive.
The Farmers Arms is set in extensive grounds with ample car parking and has a patio and an attractive landscaped garden which allows visitors to relax while enjoying panoramic views of The Clwydian Range. Since achieving the Journal Pub of the Year award in 2005-06, and again in 2008-09, The Farmers Arms has gone from strength to strength.
The Farmers Arms is situated in the Vale of Clwyd one and a half miles off the A55 Expressway
(Exit at Junction 28 and follow the sign for Trefnant).
Please check availability of tickets and confirm date / start times with the organiser before setting out, as sometimes changes are unavoidable - thank you.

export this event to my calendar
Tweet