Saturday, May 25, 2019
Doors 7pm, Music 7.30pm
Chester
Raymond Burley and Gordon Giltrap
St. Mary's - A Creative Space, St. Mary's-on-the-Hill, Chester CH1 2DW
Price: £12.50
Purchase tickets onlineclick here to purchase tickets
website: www.jhs.co.uk/news/2019/02/19/something-for-the-weekend-guitar-show-concert-2526-may/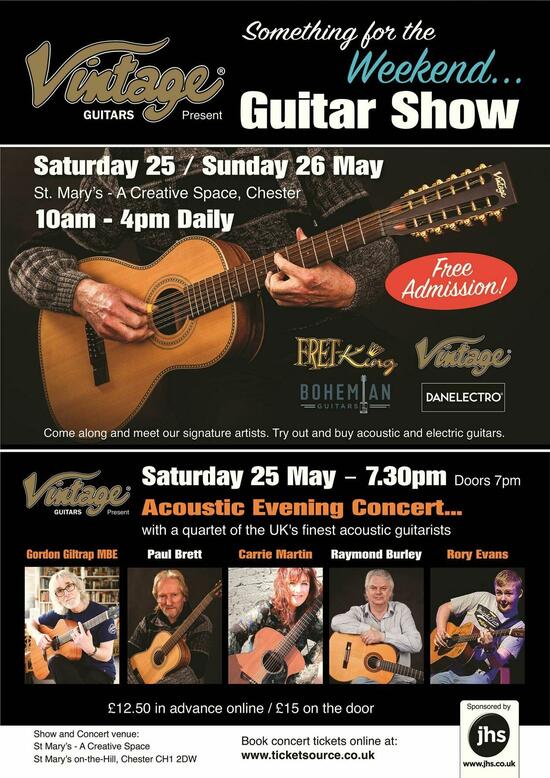 Raymond will also be joining Gordon Giltrap for a couple of numbers

Vintage Guitars 'Something for the Weekend...' Acoustic Evening Concert
Vintage Guitars presents an evening concert with a quartet of the UK's finest acoustic guitarists.
Acoustic troubadour Gordon Giltrap MBE, famed for penning 'Heartsong', the original theme tune to the BBC's Holiday program, will be joined by three fellow Vintage endorsees and luminaries of the acoustic guitar fraternity.
Paul Brett, acoustic guitar historian and aficionado, is widely regarded as one of the finest 12 string guitarists in the world; Paul is also the designer of a series of best-selling Vintage acoustic guitars and he will perform using a selection of his signature instruments.
Carrie Martin, the First Lady of Vintage guitars, has recently had her unique brand of folk fingerpicking and ethereal vocals showcased on BBC Radio, and 2019 will see her touring her latest album 'Seductive Sky' throughout the UK, Europe and Canada.
Rory Evans is a young acoustic maestro who has to be seen to be believed. Already described as 'a frightening mix of Jerry Reed and Tommy Emmanuel,' Rory's incendiary playing has generated wild critical acclaim. Combining lightning fast picking, impossible accuracy and a devilish sense of humour, Rory's acoustic guitar talents will amuse, enthral and enrapture.
In addition to the evening concert, Vintage guitars will host 'Something for the Weekend...' guitar show at St. Mary's - A Creative Space, during Saturday 25th and Sunday 26th May; admission to the exhibition will be FREE OF CHARGE, with each day open to the public between 10.00am-4.00pm
Come along and sample the latest products from Vintage, Fret-King, Bohemian and Danelectro.
There will also be an opportunity for show-goers to meet the performing concert artists during the exhibition days across the weekend.


St. Mary's - A Creative Space, Cheshire on Saturday 25 May 2019
Doors Open at 7:00PM
From 7:30PM to 10:30PM
Ticket Price: £12.50

export this event to my calendar
Tweet