Friday, September 12, 2008
8pm 0
Tsuen Wan, New Territories
Raymond Burley ( Concert )
Tsuen Wan Town Hall, 72 Tai Ho Road, Tsuen Wan, New Territories Hong Kong
phone: 2734 9009
click here to purchase tickets
website: www.lcsd.gov.hk/CE/CulturalService/Tsuenwan/index.htm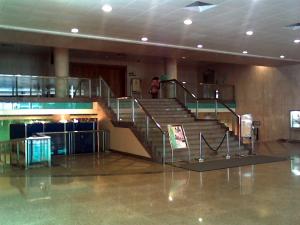 Tsuen Wan Town Hall (Chinese: ) is a town hall in Tsuen Wan, New Territories, Hong Kong.

The Tsuen Wan Town Hall was opened in 1980. It marked the first well equipped civic centre in the New Territories. Its facilities consist of a 1424-seat Auditorium, a 280-seat Cultutal Activities Hall, an Exhibition Gallery, a Lecture Room and a Conference Room, suitable for staging different scale of performances and holding various kinds of meeting, seminar, lecture, training class, exhibition etc. The Tsuen Wan Town Hall has represented the focal point of the cultural activities in the Tsuen Wan District. The West Rail service and the residential and commercial development in and around Tsuen Wan in recent years have contributed to a growing population in its catchment area. With its improved facilities, the revitalized Town Hall is ready to serve the growing number of patrons.

The 2004 major renovation was the largest in scale since the opening of Tsuen Wan Town Hall in 1980. Extensive interior and exterior refurbishments were made to increase our efficiency and quality of service, re-creating a spacious, convenient and comfortable environment for visitors of all ages as well as people with disabilities. We have redesigned the facade, entrances and public areas to remodel the Town Hall into a more welcoming and lively cultural venue.

The auditorium is the core of the town hall. With excellent acoustics design, it is often chosen by Hong Kong Philharmonic Orchestra for practising

Tickets: $100, $50 concessions.
Ticketing agent: 2734 9009
Enquiries: 9581 5270

Please check availability of tickets and confirm date / start times with the organiser before setting out, as sometimes changes are unavoidable - thank you.


export this event to my calendar
Tweet