Saturday, October 18, 2008
7.30pm 0
LONDON
Rodrigo Guitar Trio
Winchmore Hill Methodist Church, Green Lanes, LONDON N13 4EP
website: members.lycos.co.uk/enfield_guitar/index.htm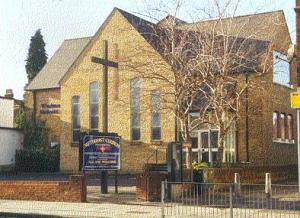 PLEASE NOTE, THE VENUE HAS BEEN CHANGED from Millfield House to Winchmore Hill Methodist Church

The society was formed in 1981 to promote ensemble classical guitar playing. The original members were part of an evening class run by the London Borough of Enfield. The guitar orchestra is a member of the Enfield Arts Network and meets bi-monthly at Millfield House Arts Centre in North London. We give a few concerts each year, from a repertoire which ranges from Bach to light classical and jazz influenced contemporary pieces. The society has premiered many new pieces written especially for the ensemble by our resident amateur composer. In addition to ensemble playing, the society arranges occasional guest recitals and workshops. Amongst the artists to appear are The Pro-Arte Trio, The New Pro Arte Trio, Dimitris Dimakopoulos, Jonathan Richards, Petros Andreou, Shuko Shibata, The Lorca Guitar Duo and Andrew York. Workshops have ranged from Guitar construction to chord construction. Friendly and expert ensemble tuition is available. New members of all standards are very welcome.

The opening of the railway station at Winchmore Hill in the 1880s spurred the birth of a new suburb. In 1880, the minister of Wood Green accepted an offer of land from Thomas Kelsey, a builder and Congregationalist, and the stone-laying of the Eaton Park Chapel, now Winchmore Hill Methodist Church, took place.

By 1910, a much larger building was needed and, on 28 September 1912, the President of Conference opened the new church. After the First World War, the Circuit Meeting requested Winchmore Hill to undertake responsibility for the formation of the Society at Grange Park. Thirteen of the nineteen original members of the new Society came from Winchmore Hill.Since the Second World War, immigration has brought people from various parts of the world into Winchmore Hill. As the church began its second century, its building was in need of extensive and costly repairs and the question raised: Repair or Redevelop? The decision was made to redevelop and, in 1987, a more modern church building was built and opened using the transept end of the old church.

For info please email: RButch3325@aol.com

Please check availability of tickets and confirm date / start times with the organiser before setting out, as sometimes changes are unavoidable - thank you.


export this event to my calendar
Tweet