America. Pro Arte Guitar Trio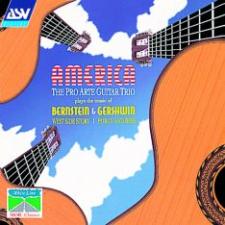 released 1996 ASV CD and cassette
Available from:

1.
GERSHWIN arr. Bruinsma: Porgy And Bess-Jasbo Brown Blues
3.
It Ain't Necessarily So
6.
I Got Plenty O' Nuttin'
7.
Three Preludes-No.1: Allegro Ben Ritmato E Deciso
8.
No.2: Andante Con Moto E Poco Rubato
9.
No.3: Allegro Ben Ritmato E Deciso
11.
Impromptu In Two Keys
13.
BERNSTEIN arr. Burley: Suite from West Side Story -Prologue
RAYMOND BURLEY, CORNELIUS BRUINSMA and PETER RUEFFER

A fourth entertaining programme of the unique, captivating sound world of the Pro Arte Guitar Trio. The songs from both Porgy & Bess and West Side Story are familiar to all; they sound irresistible in these skilful transcriptions for three guitars. Other Gershwin delights include the 3 Piano Preludes and an exquisite version of Lullaby.