Elis Pehkonen -Turning World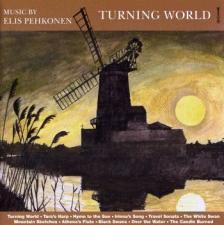 released 2007 Corinium CD
RAYMOND BURLEY
(solo guitar) with
KEITH SWALLOW
and
RICHARD LEIGH HARRIS
(piano),
HILARY THOMAS, CHRISTINE BUNNING,
SUSAN MASON
and
LESLEY-JANE ROGERS
(soprano),
DANIELLE PERRETT
(harp),
JOHN TURNER
and
ROSS WINTERS
(recorder),
TIMOTHY KIPLING
(flute)
Merlin Classics is proud to present Elis Pehkonen's new CD "Turning World" which marks his 40 years as a professional composer. Based on the theme of travel and performed by established UK artists, this CD is one of the most interesting composer-compendium CDs to emerge in recent years.
It takes the listener on a journey around the world, from the shores of England with "Turning World" to Spain to enjoy the beauty of the "Basque Love Song" and on to Australia to witness the dramatic flight of the "Black Swans" in a setting of verses from A B "Banjo" Paterson's poem of the same name.
All the works, or movements from them, are relatively short and would be ideal for radio presenters looking for accessible tonal music as part of their programming.
1 Turning World (East Anglia, GB)
2 Tara's Harp (Ireland)
3 Hymn to the Sun (Crete)
4 Irinna's Song (Greek Islands)
5 Travel Sonata (Iceland, Scotland, Ireland, France, Spain, Portugal)
6 The White Swan (Russia)
7 Mountain Sketches (Skye, Wester Ross and Sutherland, Scotland)
8 Athena's Flute (Greece)
9 Black Swans (Australia)
10 Over the Water (Hebrides)
11 The Candle Burned (Russia)