Dowland: Anthology of Selected Pieces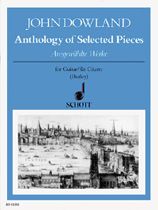 released 1993 UK: Schott
Available from:

2.
The Right Honourable Robert, Earl of Essex, His Galliard
4.
Sir John Smith, His Almain
6.
The Most Sacred Queen Elizabeth, Her Galliard
8.
Tarleton´s Riserrectione
Guitar Solo.
By John Dowland.
Arranged by Raymond Burley.
Schott. 30 pages.
Published by Schott. (49003161)

The edition is part of the ABRSM syllabus (grade 6 and 8).