Mosaic Editions Catalogue List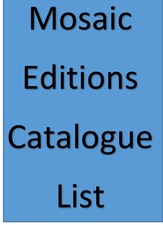 released 2017
I'd like to introduce you to a series of guitar publications, Mosaic Editions. It will feature arrangements for guitar ensemble made by Raymond Burley.
Each edition comprises a full score and parts. The pieces are arranged for standard instruments only.
Payment can be made using PayPal. Each edition has its own page where you can see a sample of the music before you purchase and details on how to order.



001: ALBÉNIZ: Capricho Catalán (3 Guitars) £10
002: RAVEL: Pavane pour une Infante Défunte (4 Guitars) £10

003: RAVEL: Pavane pour une Infante Défunte (6 Guitars) £15

004: GRANADOS: Aparicion (2 Guitars) £10

005: SCARLATTI: Sonata K.87 (2 guitars) £10

006: SCARLATTI: Sonata K.87 (4 guitars) £12

007: TELEMANN: Partie Polonoise (2 Guitars) £15

008: GRIEG: Two Pieces - Bondens Sang and Tak (4 Guitars) £10

009: HANDEL: Concerto Grosso op.6, no.1 (8 Guitars) £20