ABRSM 2009 Syllabus CD Grade 6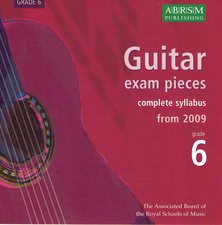 released 2009
Available from:

1.
attrib. J. S. BACH March in D
6.
D. SCARLATTI Sonata in A
7.
D. SCARLATTI Sonata in G
9.
S. L. WEISS Menuet in C
12.
DIABELLI Menuett and Trio
13.
GIULIANI Andantino sostenuto
16.
F. MOLINO Preludio in F
Guitarists: Raymond Burley, Carl Herring, Milos Karadaglic

This Cd covers the complete list of pieces for Grade 6 in the 2009 Associated Board of the Royal Schools of Music guitar examination syllabus.

CDs for Grades 1 to 5, 7, 8 are also available.

The complete series can be obtained from the Spanish Guitar Centre in Nottingham.