Danzas Fantasticas. New Pro Arte Guitar Trio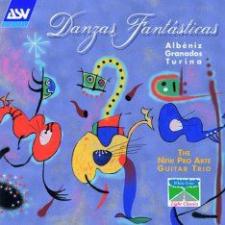 released 2000 ASV CD and cassette
RAYMOND BURLEY
,
CORNELIUS BRUINSMA
and
MARK ASHFORD
After a four-year gap, here is a winning Spanish programme from the irresistible combination now known as
The New Pro Arte Guitar Trio
. Danzas Fantásticas in many ways complements their first CD Three Guitars (CD WHL 2061), hailed by Classical Guitar as "a musical triumph for the guitar!"
For the new CD they have again returned to the home of the guitar and to the music of Albéniz and Granados. Raymond Burley has transcribed four Albéniz piano pieces from España (including the famous sultry Tango) and Suite Española. Cornelius Bruinsma has been equally successful in adapting six of Granados compelling Danzas Españolas, completing this favourite piano set of vibrant Spanish dances (the first six are on Three Guitars). This time a third great Spanish master has been added - Turina. And revelatory is the word for this wonderful version of Turina's orchestral masterpiece Danzas Fantásticas.
DANZAS FANTASTICAS New Pro Arte Guitar Trio
ASV WHL 2127.

This is a happy record indeed. Most, if not all of the music, should be known to the majority of readers by now and, suffice to say, with the present line up of instruments, namely three ordinary guitars with Raymond Burley occasionally playing requinto, the sound produced is very colourful with lots of emotion and much to enjoy.

The thing with this music is that it sounds so right on multiple guitars that one would never guess it was not written for this combination unless you already knew it. Where solo guitar can struggle coping with all the notes, as written for the piano, three guitars have absolutely no problem, granted that a certain number of low notes have to be transposed up into higher octaves now that they no longer use a bass instrument.

Highlights are too many to mention, but now that they have recorded all 12 of the Granados 'Danzas Espanolas', I have to say I prefer them in this guise more than any other, and that includes the original piano versions. The Turina is also nice to hear, not being as often heard as the other material, and again fits very well into its new format.

So, as I said at the beginning, this is a happy record. Enough said. No more recommendation is needed. Go try it!

Chris Dumigan (Classical Guitar magazine)