Concert reviews
Future Talent 2nd July 2011
Sunday, July 17, 2011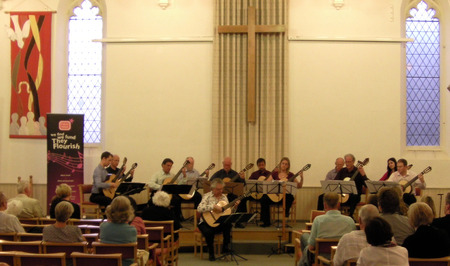 On 2nd July a concert involving 12 guitarists was staged at the lovely Methodist Church in Witney, the proceeds going to the Duchess of Kent's charity 'Future Talent'. As with the majority of these events rehearsal took place on the day of the performance and I'm pleased (perhaps relieved) to say that it all came together brilliantly. I'd like thank the players for giving their time and talents: Steve Christmas, Arne Brattland, Debbie Haeck, Gary Jordan, Andrew Stanton, Roger Green, Orshi Pataki, Mike Hinchliff, Richard Butters, David Pedder and Shaun Kennedy. If you've just counted them, I was the twelfth player.

The programme comprised: Guimaraes: 'Grauna' (Ray B), Vivaldi: 'Concerto' RV532 (AB and Ray B soloists), Ivan Andrews 'Suite, Berkshire Bytes' (RB, GJ, DH, MH, RG and OP), Handel: 'Concerto Grosso' op.6, no.1 (group), Sor: 'L'Encouragement' (AB and Ray B), van der Staak: 'Concertino III' (Ray B soloist), Albeniz: 'Zambra Granadina' (AB, DP and Ray B), Mark Houghton: 'The Storm' (group), Jenkins: 'Palladio' (group). The encore given was Lennon and McCartney: 'Eleanor Rigby' (group).

Another multi-guitar event for 'Future Talent' will be held at the same venue on Saturday 28th April next year.