Latest News
Urchfont Manor Oct 2011 Review
Thursday, November 3, 2011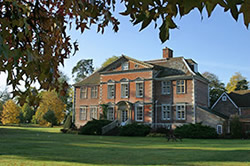 I'm happy to report that last month's weekend guitar ensemble course was a great success. As usual it was sold out and I understand there are very few places left for the next course in March. The chosen 'orchestral' pieces this time were Arne Brattland's excellent arrangement of a section of the 'Allegretto' from Beethoven's 7th Symphony used in the film 'The King's Speech', and my arrangements of Abba's 'S.O.S.' and Ronald Binge's famous 'Elizabethan Serenade'.

The Saturday evening concert was given by 'Double Vision' (Gordon Giltrap and me). The Saturday evening concert for the March course will comprise music for three guitars played by Arne and Debbie Brattland and me.

As always, I'd like to thank all the players for coming; some have been coming for 10 years. Their loyalty and participation is greatly appreciated.