Latest News
Future Talent Concert report
Saturday, May 5, 2012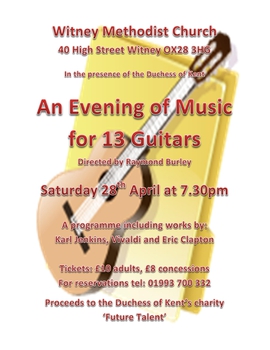 Saturday 28th April saw the annual multi guitar concert in aid of the Duchess of Kent's charity 'Future Talent'. It was again held in the lovely High Street Methodist Church in the centre of Witney, Oxfordshire. The varied programme featured a duo item, a trio, a quartet, two quintets and several pieces for the entire group of 13 players. The programme comprised: 'Serenade op.96' by Carulli, my new arrangement of Vivaldi's 'Concerto op.3, no.8' (originally for two violins), two more of my arrangements: Ronald Binge's beautiful 'Elizabethan Serenade' and Karl Jenkins' 'Palladio'; in between these were two recently composed pieces by the prolific Liverpool-based composer Mark Houghton, 'Passacaglia' and Tango'. The second half kicked off with the eternal favourite, Stanley Myers' 'Cavatina', this was followed by another Mark Houghton composition, 'The Storm'. Recently I arranged a set of 12 pieces by Albeniz for guitar trio (for a recording and for publication); 'Mallorca' was chosen for this concert. In the early days of the Pro Arte and New Pro Arte Guitar trios many of the arrangements featured requinto on the upper line; I dusted mine off and used it for my arrangement of three movements from Haydn's 'Divertimento op.2, no.2' originally for lute and strings. The concert ended on a slightly lighter note with three of my pop arrangements: Tony Hatch's 'Downtown', Eric Clapton's 'Wonderful Tonight' and Abba's 'S.O.S.'.

I'd like to thank the members of the audience for supporting the cause. Obviously a concert such as this couldn't take place without the enthusiasm and willingness of the players who, as always, gave their time and talents freely. I'm very grateful to them.

Will it happen again next year? Probably.