Latest News
JHS Event, 2013
Thursday, June 20, 2013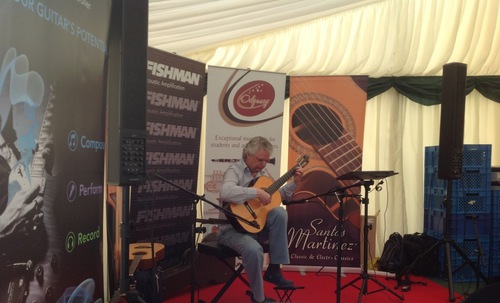 The annual JHS Event took place between Saturday 8th and Tuesday 11th June at its usual venue, the spacious grounds of John Hornby Skewes headquarters in Garforth, Leeds. It offers instrument and equipment dealers a chance to see the entire range of JHS items in a warm and relaxed setting. There were generous refreshments and entertainment was provided by some of JHS's leading endorsers and artists. This was the Event's 17th year.

Many of JHS's signature artists were on hand to chat to visitors about why they are honoured to be part of the JHS empire. Among those visiting - and performing - this year were Paul Brett, Gordon Giltrap, Ray Jackson, Thomas Blug, Jerry Donahue, Geoff Whitehorn, John Etheridge, Alan Morrison, Mick Abrahams, John Verity and Dave Colwell. I was very happy to be included in the line-up again (my third time) playing both solo and in duo with Gordon Giltrap.

For the first two days I used my Santos Martinez Raymond Burley Signature Guitar for pieces by Bach, Villa-Lobos, Barrios and Giltrap; on the third day I played a brand new guitar made for me by the excellent Spanish maker Manuel Rodriguez - who was in the audience to hear it.

The Event provides an excellent opportunity to meet up with several friends not seen since to previous year. It was quite a surprise to learn that Ray Jackson - singer, harmonica player and mandolinist from Lindisfarne (the band, not the island) - lives just three miles from me.

Several people mentioned that it's a pity the Event is not open to the public for one of the days. I'll have a word with the powers-that-be.

Here's to next year.