Latest News
Four Parts 'Guitarmageddon' Tour
Wednesday, May 6, 2015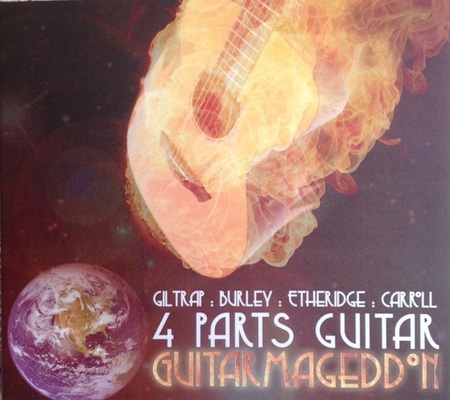 (Gordon Giltrap, Clive Carroll, John Etheridge and RB)
This year's tour proved to be quite substantial with gigs in many parts of the country: Falmouth, Aldershot, Leamington Spa, Calstock, Grantham, Hailsworth, South Petherton, Buxton, Haverhill, Lichfield, Stroud, Andover, Worcester, Colchester, Milton Keynes and York. The audience response to our new programme was phenomenal. Most of the gigs were sold out and a huge number of copies of the new CD were sold - and signed.
We decided to devote the first half of each concert to solo items: Gordon, Clive, RB and John. The second half was almost like a party on stage with the wide variety of duos and quartets, and the ever-changing banter. Thankfully my new arrangement of Gordon's greatest hit 'Heartsong' was very well received. As always we began the group set with another Giltrap hit 'Maddie Goes West' which seemed to evolve steadily as the tour progressed - particularly when it was featured as an encore item with John's blistering overdriven solo. A surprising high point was a duo featuring Clive and me: an arrangement of
Egberto Gismonti's
beautiful 'Agua y Vinho'. There were many high points during the tour (on and off the stage) far too many to mention here. It was a very pleasant surprise to have
John Williams
in the audience at Calstock Arts Centre.
We're all keen to repeat the experience next year. Fingers crossed it comes off; I can't wait.