Latest News
12 Polish Folksongs by Witold Lutoslawski
Friday, April 25, 2008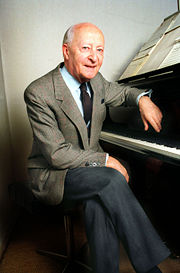 It's just been announced that Raymond's wonderful guitar arrangement of the
12 Polish Folksongs
by
Witold Lutoslawski
is shortly to be published by Lutoslawski's main publisher
PWM
(Polskie Wydawnictwo Muzyczne).
Witold Lutoslawski; (January 25, 1913 – February 7, 1994)
was one of the major European composers of the 20th century, and one of the pre-eminent Polish musicians during his last three decades. During his lifetime, Lutoslawski earned many international awards and prizes, including the Order of the White Eagle, Poland's highest honour.

During his youth, Lutoslawski studied piano and composition in Warsaw. His early works were influenced by Polish folk music. His style demonstrates a wide range of rich atmospheric textures. He began to develop his own characteristic composition techniques in the late 1950s. His music from this period onwards incorporates his own methods of building harmonies from small groups of musical intervals. It also uses aleatory processes, in which the rhythmic coordination of parts is subject to an element of chance. His compositions (of which he was a notable conductor) include four symphonies, a Concerto for Orchestra, and several instrumental concertos and orchestral song cycles.